Introducing Thr Brad Hudson Band.
Brad is a multi-instrumentalist with a highly recognizable, soulful voice and a resume that speaks volumes for his Country/Grass music skills. 
We're so excited to announce that Brad Hudson and the band will be releasing a brand new country project this year. It been a lifelong dream to be touring with his own band in support of his brand new album. Country music after all, is built on dreams and our love of music, our family and our Faith. All things that Brad is very strong in.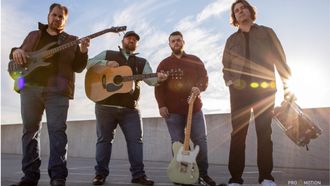 With the current release, "Someone Else Is Loving Her Now " on BradHudsonMusic label, doing well, Brad took a leap of Faith in doing a country project, he has developed a strong respect and knowledge of true road life with a traveling . He has seen success with many musical formations and learned so much from each one over the years, all adding to his business and music savvy in the music industry. 
Now Brad looks forward to hitting the road in 2021 in full support of his project and promoting a sound that he says has always "lived in my heart" but that he hasn't had a platform to express.
"

As a vocalist and multi-instrumentalist, Hudson stands shoulder to shoulder with the best whether on guitar, bass or Dobro. "Next New Heartbreak" is a solid platform for Hudson to take command and showcase his many talents. Having a hand in nearly every aspect in it's creation, whether in writing, singing or playing, "Next New Heartbreak" is clearly Hudson's own. With such natural talent and versatility, Hudson's recording is an enjoyable, and memorable solo debut."
— Country Standard Time
About Brad
Brad has performed with the Parton family at Dollywood, opened for many country stars on the Grand Ole Opry like Collin Raye and Eric Church, toured nationwide with Lorraine Jordan & Carolina Road, including recording on the "Country Grass" project, singing a duet with John Conlee on his hit classic country song "Common Man." Brad also had a great time touring with gospel greats Jeff & Sheri Easter, during which he played  Drums,guitar, banjo, dobro, mandolin, as well as singing for the group. He learned a lot from the Easter's and got to do so much for the Gaither TV stars and Grammy nominated artists.
All of these amazing accomplishments and opportunities have left Hudson with a wealth of experience to bring to his own band, a challenge that he feels completely ready for. He has assembled a great stage band to support his new album and looks forward to putting them on your stage and pleasing audiences nationwide.